Heating & Cooling System Maintenance
Nothing Lasts Forever.
But With Proper Maintenance, Your Heating & Cooling Systems
Can Last a Lot Longer than Most.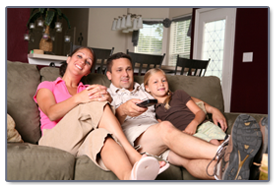 Your home heating and cooling systems, no matter how new and efficient, are mechanical objects.  And like all things mechanical, sooner or later you're bound to encounter a repair issue of some kind.
So the idea is to apply as much preventive maintenance as possible.  Here's why:
The average lifespan of each system is 10-15 years.
Without scheduled maintenance, heating and cooling efficiencies go down, which means you're spending more on fuel and electricity to obtain the same levels of indoor comfort.
Lack of regular maintenance also increases the likelihood of repairs, and the longer a potential problem goes unchecked, the more expensive the resulting repair.
Finally, regular maintenance can add years to your system's lifespan.
At C&D, we offer annual system maintenance for all of the above reasons, and more…you're your family's increased safety.  In fact, the cost of that service is included in your annual fee as a member of our Comfort Protection Plan.
Our annual cleaning, tune-ups and inspection includes these and other vital steps:
Clean your filters, and replace them if necessary;
Checkfor carbon monoxide for gas leaks;
Inspect the safety controls;
Lubricate and inspect all motors;
Inspect the seals and insulation of your air ducts… heat loss from leaky, un-insulated ducts reduces the efficiency of your heating system by as much as 30%;
Check and adjust thermostat for accurate system control;
Visually inspect your heat exchanger for cracks;
Examine and calibrate refrigerant controls (AC);
Verify proper amperage and voltage for your compressor and condenser motors (AC).
Heating & Cooling System Repairs
No matter the make, model or type of home comfort system you have, C&D offers expert repair and maintenance services.
Specifically, we repair these and other heating & cooling systems:
Forced hot air systems
Hot water systems
Steam heating systems
Central air conditioning
Ductless air (cooling alone or combined heating & cooling)
Heat pump (combined heating & cooling)
Skilled Technicians for Your Greater Peace of Mind
Here are other common repair problems that, with our fully stocked trucks, we can usually fix with just a single visit to your home:
Pilot light won't ignite
Gas leaks
Blocked or split ducts
Defective or broken thermostat
Faulty burners, coils, heat exchangers, flues, and much more
Your condenser stops running
Uneven heating or cooling cooling throughout your home
The Time to Act is Now!
When a problem arises, that's the time to contact C&D Cooling & Heating…especially since certain problems, like a gas leak, have serious implications when it comes to your family's safety.
Contact us by phone or email today.
908-647-1696
Click here to ask questions or schedule service now